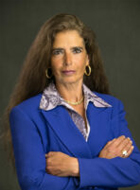 LAW SCHOOL
Cleveland-Marshall College of Law, Juris Doctor, 2002
COLLEGE
University of Southern Maine, BA, Anthropology, 1983
Ms. Zifferblatt began practicing law in New Mexico in 2004 by representing Pueblo members in State District Court and in the Eight Northern Indian Pueblo Tribal courts.  She also worked as an analyst for the New Mexico House of Representatives Judiciary Committee in 2004 and 2005 and served as special counsel during impeachment proceedings involving the former State Auditor in 2005.
In 2005, Ms. Zifferblatt joined The Baker Law Group representing municipalities and government employees throughout New Mexico. She handled employment, torts, civil rights, Inspection of Public Records Act, and whistleblower cases. In 2008, Ms. Zifferblatt became a partner in the firm, and broadened her practice to represent plaintiffs in legal malpractice, nursing home, elder abuse, and related matters throughout the next fourteen years. Ms. Zifferblatt also handled various appellate issues at the state and federal levels, and represented lawyers in disciplinary proceedings before the New Mexico Disciplinary Board and the New Mexico Supreme Court.
In 2022, Ms. Zifferblatt formed her own law firm when Mr. Baker retired, and represented clients in employment, torts, civil rights, contracts, construction, administrative proceedings, family law, whistleblower, and New Mexico Disciplinary Board and New Mexico Board of Bar Examiner matters. She also assisted clients in submitting fire litigation claims in Northern New Mexico after the Hermits Peak and Calf Canyon fires occurred in 2022.
Given her experience in representing both Plaintiffs and Defendants in various legal matters, Ms. Zifferblatt prides herself on her ability to evaluate legal matters in an objective manner. Ms. Zifferblatt is well known for going the extra mile for her clients and for her ability to problem solve.
Bar Admissions & Certifications
---
State Bar of New Mexico
United States District Court for the District of New Mexico
Tenth Circuit Court of Appeals
United States Supreme Court