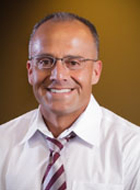 LAW SCHOOL
University of New Mexico School of Law, Juris Doctor,1990
COLLEGE
University of New Mexico, B.A. in Political Science, 1987
For the past three decades, Mr. Robles has represented government clients.
Having defended numerous police misconduct and prisoner rights cases in both federal and state courts, Mr. Robles is a trial lawyer with considerable expertise in Section 1983 and New Mexico Tort Claims Act litigation. Both as an Assistant City Attorney with the City of Albuquerque and in private practice, he has litigated numerous claims involving high speed vehicle pursuits, warrantless arrests, search warrant procurement and execution, crowd control during mass protests, use of less-lethal force, the use of Taser, police K-9 apprehension (bite), and police shootings. During his thirty years in the practice, he has tried approximately 70 cases to juries in federal and state court. He has successfully defended twelve police shooting cases (five by jury trial and seven by summary judgment). He also obtained defense verdicts in five police K-9 apprehension cases, and two large scale anti-war protest cases by jury trial. Mr. Robles is also experienced in defending matters involving prison and correctional facility cases.
In a high-profile criminal case, Mr. Robles represented one of two police officers who were charged with Second Degree Murder, Voluntary Manslaughter, and Aggravated Assault with a Deadly Weapon for the officers' use of deadly force. After a two and half weeks of trial, the jury hung, splitting their vote 9-3 in favor of the officers.
In addition to trial work, Mr. Robles has represented governmental entities before the Tenth Circuit Court of Appeals in several cases. On appeal, he has successfully represented his clients in police shooting, wrongful imprisonment, and police K-9 apprehension cases, among various others.
Mr. Robles frequently provides training seminars also for law enforcement, corrections, and other security personnel. As well as teaching basic cadet level courses, he regularly provides advanced level training for tactical team members and supervisors in high liability areas. As a result of his efforts, Martindale-Hubbell has rated Mr. Robles as an "A-V" attorney recognizing him as a lawyer with pre-eminent legal abilities. Additionally, Mr. Robles is board certified in local government law by the New Mexico Board of Legal Specialization.
With his wife Teresa, Mr. Robles is the father of two boys. He has dedicated years of service to the Rio Soccer Club, coaching his sons' youth soccer teams. He currently serves as a member of the Board of Directors for Rio Soccer Club and the Coach Administrator for the Duke City Soccer League.
Awards
---
Martindale-Hubbell AV® Pre-eminent® Peer Review Rated
Certified Specialist in Local Government Law (N.M. Board of Legal Specialization)
Memberships
---
International Association of Chiefs of Police
National Tactical Officers Association
American Society of Law Enforcement Trainers
New Mexico Defense Lawyers Association
Albuquerque Bar Association
Rio Vista Football Club Board of Directors
Bar Admissions & Certifications
---
State Bar of New Mexico
United States Supreme Court
Tenth Circuit Court of Appeals
Fifth Circuit Court of Appeals
United States District Court for the District of New Mexico
United States District Court for the District of Colorado
Certified Specialist in Local Government Law (N.M. Board of Legal Specialization)
"Professional Lecturer" and "Master Instructor" (N.M. Dept. of Public Safety)